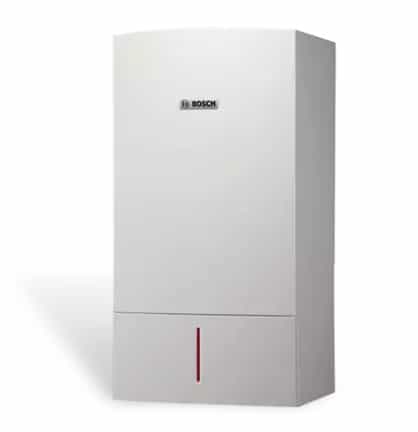 Highly-efficient and reliable gas condensing boilers from Bosch.
Features
95% AFUE efficiency
Available in both heating-only and combi versions
Insulated for ultra-quiet operation
Compact wall-hung and floor-standing designs
Benefits
Compact Design
The Greenstar boiler is available in both wall-hung and floor-standing models. Wall-hung models are perfect for installations where space is limited and floor-standing models help make boiler replacements quick and easy.
Fully-modulating Fan Assembly
A fully-modulating fan helps maximize efficiency by ensuring that the unit operates with optimal combustion. The fan automatically increases or decreases speed according to the amount of gas coming into the boiler, meeting heat demands and saving energy.
Minimize Service Calls
With corrosion-resistant heating blocks designed to optimize clean burning combustion over an extra large surface area, the long-lasting Greenstar requires minimal servicing and reliance on spare parts. This unit comes equipped with an advanced Aluminum-Silicon alloy heat exchanger, offering increased flexibility versus traditional stainless steel.
Lochinvar Combi Gas Boilers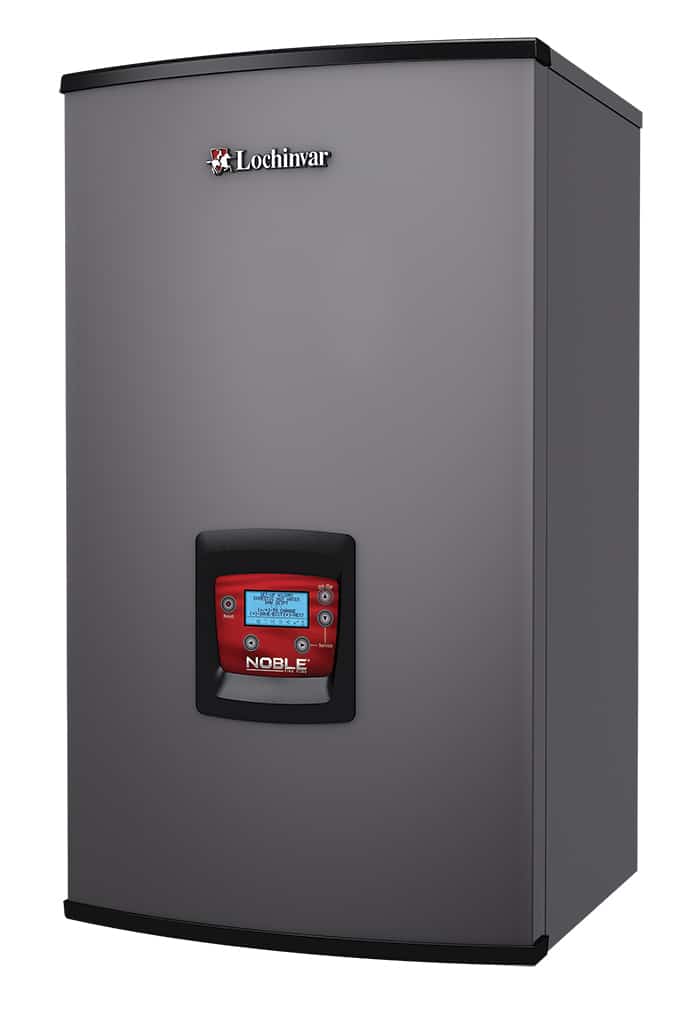 Delivers both dependable hot water and soothing space heating in a single appliance.
Features
3 Models from 110,000 to 199,999 Btu/hr

95% AFUE

10:1 Turndown Ratio

Easy Installation and Serviceability

Features SMART CONTROL™ Operating Control
The Noble™ fire tube combi boiler is a money-saving solution that delivers both immediate hot water and comfortable home heating.
Lower Your Energy Bills
The ENERGY STAR® qualified Noble combi boiler delivers 95% efficiency, which means 95 cents out of every energy dollar gets converted into dependable hot water and comfortable space heating.
Endless Hot Water
The Noble combi boiler delivers 4.8 gallons of hot water per minute*—the highest capacity in the combi market—so users can run multiple fixtures at the same time.
Rugged Reliability
Noble's simple design is easy to service and its commercial grade construction ensures long lasting reliability.
Save Space
At about the size of a suitcase the Noble combi boiler is small enough to fit in a closet or small room, so it doesn't dominate your living space.
Quicker Hot Water
With the patented control technology of the Noble combi boiler, Noble can make immediate hot water for showers, cooking and more.
Outstanding Warranty
You get 10 worry-free years of protection on the boiler heat exchanger, plus five years of coverage on all other parts.